The startup was founded by 3 Montreal based entrepreneurs in 2016. The model, often compared to the "AirBnB of storage", allows the exchange of storage spaces between individuals such as rooms, garages, basements and parking spaces.
The company gained great popularity following its early appearance on the angel investors TV show Dragons Den. Several other media publications combined with the ease of use of the interface, have also increased the number of users on the platform to more than 5,000 until a business model adjustment and rebranding initiated more recently, in response to high demand for handling and warehousing.
They now operate under the name of Spaceful and to this day, they still use functionalities originally developed for Sharebee.
The need
The essence of Sharebee's service is to provide an optimal user experience for searches and transactions between individuals. This is what ensures the volume and recurrence of users both at the landlord and tenant level.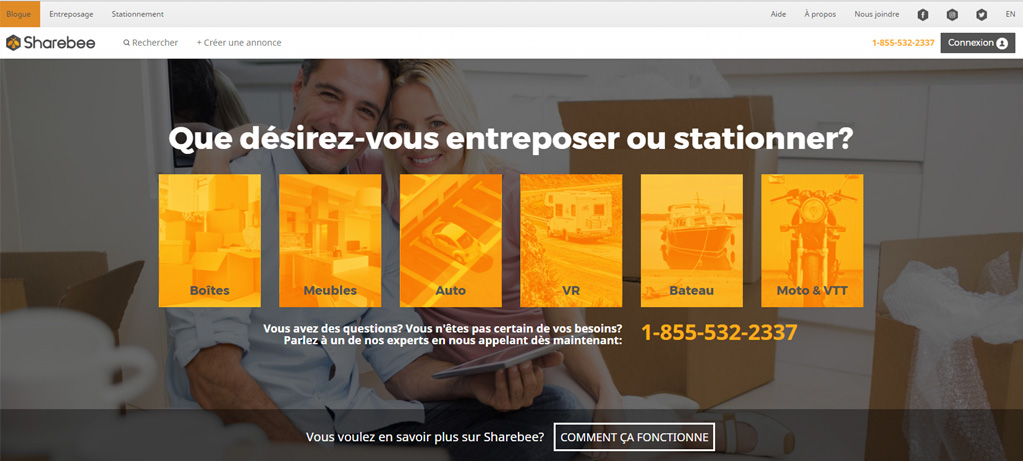 The solution
It was necessary to create a powerful and stable custom application that could be scalable and easily maintained. Laravel in PHP was chosen to take care of the back-end part of the app, and VueJs for the front-end. The data is stored in MySQL databases.
Features
Website - Landlord User Interface Portal
Website - Tenant User Interface Portal
Management dashboard for operators
Dashboard for account managers
Dynamic invoicing system based on rental spaces
Automatic allocation of royalties to the landlords
Results
Highly functional

The company can use a powerful 100% tailor-made, bilingual, interconnected website with all the functionalities that are the basis of their business operations and interactions with their customers.

Flexible and scalable

The custom code structure allows a continuous and rapid evolution according to the fast changing needs of the market. The well-documented code also allows Sharebee to use their in-house developers to make certain modifications independently.

Safe and sound

Ownership of the code hosted on well configured servers makes it possible to prevent security breaches that could compromise users' personal information as much as possible.